BBD Construction & Fuse Workspace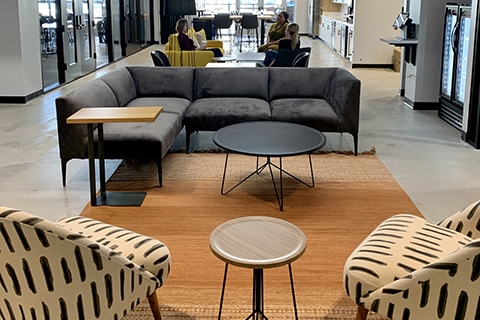 Buttry & Brown Development AND FUSE WORKSPACE ANNOUNCE COMPLETION OF 29,000 SQUARE FOOT HOUSTON COWORKING SPACE
BBD Construction, a division of Buttry & Brown Development, is pleased to announce the completion of a 29,000 square foot coworking space located in Houston's CITYCENTRE district. Developed and constructed as the second location of Dallas-based FUSE Workspace, the project fostered a strong partnership between BBD and FUSE resulting in additional projects.
"BBD was honored to be chosen by FUSE for their new showcase facility in CITYCENTRE. Mike Daugherty and his team are very creative and have tremendous knowledge of the coworking space and the hospitality required to create an outstanding environment businesses are looking for," said Partner Steve Buttry. "Our teams worked very well together through several design challenges. Being asked by FUSE to roll right into another project speaks volumes about both teams' commitment to excellence and good communication."
Featuring 23,000 square feet of Class A offices and 6,000 square feet of outdoor space, the new FUSE site includes 90 private offices, three specialty suites, four terraces, seven conference rooms, a podcast studio, as well as gathering space for up to 100 guests.
Currently, two of the three specialty suites are already occupied, one of which is leased to Varidesk as a combination showroom and sales office. The remaining suite features 27 desks, nine offices, and a private patio.
"The ownership and management team at BBD share our values and brought high level of professionalism as they managed this project through a tight timeline and budget," said DPG Partners founder and chariman, Mike Daugherty. "BBD did an excellent job on our second FUSE location and we're excited to bring the BBD team along with us as we start construction on our third location."
The new FUSE site sits in the award-winning Houston CITYCENTRE district, a 47-acre mixed-use zone featuring an incredibly active coworking environment. In addition to the modern workspaces, CITYCENTRE includes premier dining, shopping, entertainment, and hotels, creating an intimate community in the heart of Houston.
Following the workspace's unveiling on March 2, the public is invited to a grand opening celebration on April 30th with all-day events followed by an evening Q&A with James McKinney, host of The Startup Story podcast, and VARIDESK founder and CEO Jason McCann. For more information about the grand opening celebrations, visit fuseworkspace.com.
About Buttry & Brown Development
Buttry & Brown Development provides nationwide real estate development, construction, and financing solutions. They aim to simplify and streamline the real estate development and construction process by providing the services their clients need, when and where they need them. With their extensive industry experience, Buttry & Brown Development's team handles the complicated, challenging parts of development and construction so you can focus on building your business.
Dallas-based FUSE Workspace is a division of DPG Partners www.dpgpartners.com, a hospitality-focused company that develops, owns, and operates co-working facilities throughout Texas, as well as hotels in Texas and Arkansas under Marriott and Hilton flags. The company was founded in 2003 by Mike Daugherty. In addition to the original Dallas (Prosper) location, and soon-to-open Houston location, FUSE Workspace will debut an Austin (Bee Cave) site in July 2020.
Developed by Midway, Houston's 47-acre CITYCENTRE district is a thoughtfully planned and meticulously executed, self-contained community. CITYCENTRE encompasses two million square feet, including 350,500 square feet of sophisticated retail and dynamic dining, 625,000 square feet of Class-A office, 35 luxurious brownstone residences, 1,155 upscale apartment and loft units, the 171-room Four Points by Sheraton–CITYCENTRE and 255-room, world-class The Moran CITYCENTRE. Activated by European-style, open-air plazas, and beautifully designed green spaces, CITYCENTRE is also home to Life Time Athletic, a 140,000-square-foot, state-of-the-art urban fitness facility with a full-service spa. The district's 54,000 square feet of entertainment offerings include Bowl & Barrel, Studio Movie Grill theater, and The Escape Game plus 75,000 square feet of premier meeting and event space within Norris Conference Center, Texas A&M Mays Business School, and The Moran's dedicated Meetings & Event Centre. CITYCENTRE is served by four parking garages with more than 4,000 parking spaces. For more information, please visit www.citycentrehouston.com.