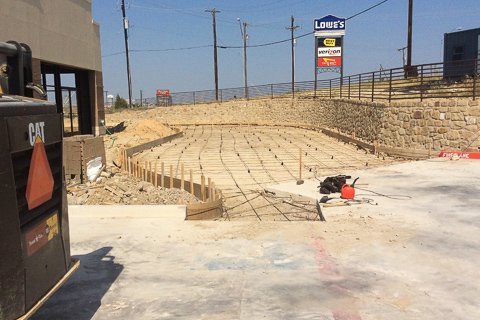 Our construction services are available as a stand-alone service or may be coupled with real estate development or financing. Whether you need ground up construction or a tenant space buildout, Buttry & Brown Development has the knowledge and experience to get the job done right.
A Construction Partner You Can Trust
Buttry & Brown Development is dedicated to providing a superior construction experience. From conception to construction to opening day, we put your needs first. We are focused on getting our clients the best quality building, at the best value, on time and on budget. That's our commitment to you.
All of our projects are built with precision by skilled trades that are chosen for their ability to deliver buildings of the highest quality, while meeting time and budgetary parameters. Buttry & Brown Development maintains a vast network of specialty trade contractors that have proven themselves to be dedicated to client satisfaction.
Our team carefully monitors construction progress at every stage to ensure that your facility meets our rigorous standards for quality and craftsmanship.
CLEAR, CONCISE COMMUNICATION
& CONTROL
Construction projects require careful planning and choreography to run smoothly. Consistent collaboration and documentation are the keys to ensuring that your project remains on schedule.
Buttry & Brown Development utilizes Procore© project management software, an industry leading cloud-based software that provides unparalleled control and visibility into each stage of the project. At any moment, our construction team, trades and clients can quickly view the status of the project, site pictures, current plans and specifications to confirm everything is on track.
We keep our clients informed at every stage in the process. Our construction team communicates with you daily, weekly, or monthly as you prefer. We invite our clients to walk through their project during construction, so they can see firsthand the outstanding quality work that defines a Buttry & Brown Development project.
Time is our most important resource. We understand that the sooner you can get your doors open for business, the sooner you can maximize your investment. We carefully schedule and phase the construction process, eliminating lost time from material delays and out of sequence work. We carefully monitor construction progress to ensure that your building is delivered on time.
At Buttry & Brown Development, we keep safety top of mind for everyone on the jobsite. Every day begins with safety in mind. We review what's scheduled and evaluate the potential challenges and hazards to eliminate unsafe conditions and prevent accidents. If someone notices a problem or unsafe situation, our team is empowered to take action immediately to correct the problem. We maintain an orderly construction area and remind everyone on the site to be aware of their surroundings, correct safety issues when possible, and to notify management when necessary.
Safety is a decision made every minute of every day.
MULTIPLE PROJECT DELIVERY SYSTEMS
Buttry & Brown Development offers four types of construction management services to align with our client's needs.
What Our Clients are saying
Buttry & Brown Development has brought value, professionalism as well as strong work ethics to NuTex Health. We are very fortunate to be working with BBD on our national expansion.
CEO
NuTex Health
Establishing a brick and mortar national franchise system is a complex task. As the President and CEO of Little Sunshine's Playhouse (Franchisor) and Playhouse Development (the real estate arm of the school franchise) we have enlisted multiple development partners during the pre-opening stage of our preschool to offer assistance in site selection, project bidding, contractor selection, engineering and project management and funding. We have found an outstanding partner in Buttry & Brown Development! Their teams are diligent with tasks and efficient with time and cost. We have the upmost respect for their processes from site selection through project completion and warranty. We are proud to be their partner in past, present and future project acquisitions.
Franchisor/President/CEO
Little Sunshine Playhouse & Preschool
When Scotty's Brewhouse partnered up with Buttry Brown Development I never knew how incredible they could make the entire construction experience! They constantly take our best interests in mind and help us make field level decisions seamless and easy. Their attention to detail is second to none and their timely reporting of progress, weekly pictures and decisions needed make managing multiple construction projects much easier. I look forward to expanding our brands and developing more in the future with their team.
Sr. Dir of Construction & Design
Due North Companies
The folks at Buttry & Brown treat their clients like a part of the family, and it's hard not to feel like one; from working with Rhonda at the front office to Chris Morphew working with us on construction, this team has my trust unlike any I've encountered in the development marketplace. Chris has the knowledge and superb communication to get the best work done, on schedule, with peace of mind all along the way.
Dir. of Real Estate
Boston's Pizza
I had the privilege of working directly with BBD Construction on a recent Jason's Deli project in Ft Worth, TX. The project had a very accelerated schedule and involved coordination of numerous vendors and décor changes. BBD and the team of Chris Morphew and Jeff McElderry came through with shining colors even when things didn't go as planned. I count BBD as a valuable asset to Jason's Deli and hope to continue to utilize their skills for the foreseeable future.
Dir. of Construction
Jason's Deli